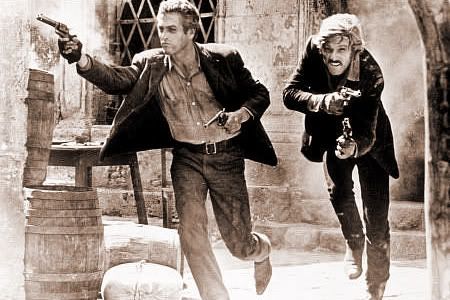 Here I go criticizing another classic.
Butch Cassidy and the Sundance Kid
is based on a true story about two bank robbers who are being hunted down for one of their train robberies. They escape to Bolivia, but it doesn't stop the posse that is following them, and they end up getting killed.
The main problem of this film is that it's very boring. I couldn't help thinking how overrated it was every single minute while I was watching it. I don't like westerns that much, but this one was one of the least entertaining of all the westerns I've seen in my life, I just couldn't wait for it to end. I don't even want to mention all the countless clichés that are in this movie.
Still I have to admit that the style itself was pretty good. I liked the way the editing was done, specifically when the main characters were on their way to Bolivia, and also at the end of the movie, before they got shot. I thought that the photo sequence was great. Still it wasn't enough to make me enjoy this film.
Some of the dialogues were really good, but most of them were lost in translation, so I had to re-read them on IMDb to catch up. May be if I had watched the movie in English, I would have liked it more, but the problem is, I never want to see it again.
Favorite quote: "If he'd just pay me what he's spending to make me stop robbing him, I'd stop robbing him".
Interesting fact: Katharine Ross enjoyed shooting the silent, bicycle riding sequence best, because it was handled by the film crew's second unit rather than the director. She said, "Any day away from George Roy Hill was a good one."